The following sites provide additional resources for veterans and their families.
Crisis/Hotlines
National VA Homeless Hotline – 24 Hour
Toll Free at 1-877-424-3838
https://www.va.gov/homeless/
Veterans Crisis Line – 24 Hour
Toll Free at 988, Press 1
www.mentalhealth.va.gov

Change Direction: Give An Hour Campaign – Know the Five Signs!
https://www.changedirection.org/give-an-hour/
Florida Veterans Support Line
1-844-MyFLVet (693-5838) or 2-1-1
Hope for Healing Florida
https://www.hopeforhealingfl.com/
The Recovery Village
https://www.therecoveryvillage.com/treatment-program/online-counseling/telehealth-app/
VA Caregiver Support Line
1-855-260-3274
https://www.caregiver.va.gov
White House VA Hotline – non-emergency, VA inquiries
1-855-948-2311
https://www.va.gov/ve/whvahotline.asp
COVID-19 Resources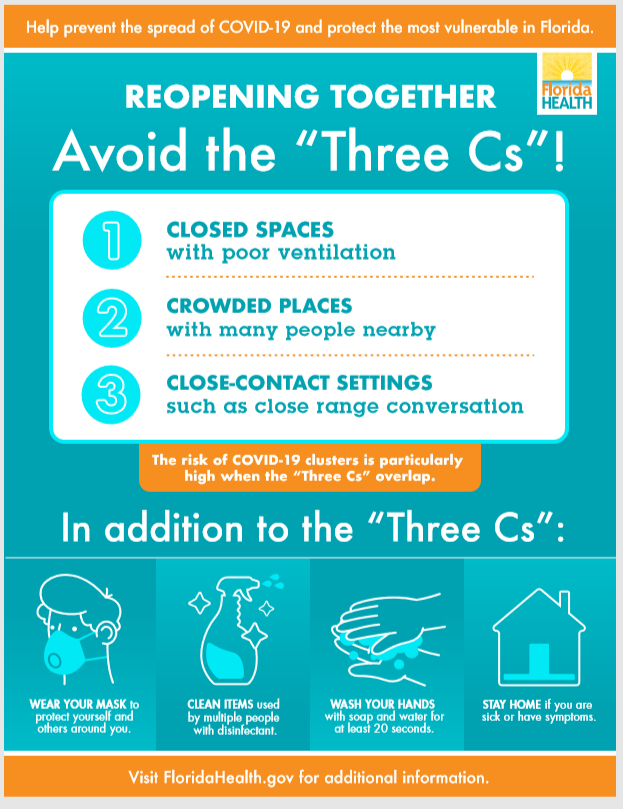 COVID 19 Vaccine Questions
Ask A VA Doc About The Safety Of COVID-19 Vaccination
GI Bill – COVID-19 Fact Sheet
https://floridavets.org/wp-content/uploads/covid-19_Factsheet.pdf
VA Public Health
www.publichealth.va.gov/n-coronavirus/index.asp
Centers for Disease Control and Prevention
www.cdc.gov/coronavirus/2019-nCoV/index.html
Florida Department of Corrections
www.dc.state.fl.us/comm/covid-19.html
Florida DEO Covid-19 Reemployment Assistance Resource Guide
https://floridajobs.org/docs/default-source/reemployment-assistance-center/new-individual-faq-includes-cares-act-final.pdf?sfvrsn=5f2547b0_14
Florida Department of Health
https://floridahealthcovid19.gov/
SOF Missions – COVID-19 Care Kits
https://sofmissions.org/
If you have a VBA benefit debt and need temporary financial relief, please contact Debt Management Center at 1-800-827-0648 or visit their website https://www.va.gov/debtman/ to request assistance.
New VA Online Discharge Upgrade Tool
A web-based tool that will provide customized guidance to veterans who desire to upgrade or change the conditions of their military discharge.
https://www.vets.gov/discharge-upgrade-instructions
Employment & Business Services
Employ Florida Vets
https://veteran.employflorida.com/
Florida State Veterans' Homes Recruitment
https://floridavets.org/were-looking-for-you/
https://floridavets.org/wp-content/uploads/2016/07/Were-looking-for-you-tri-fold-brochure.pdf
Florida Veterans' Business Assistance
www.floridasbdc.org
www.fptac.org
Service-Disabled Veteran-Owned Small Businesses
osd.dms.state.fl.us
Salute our Soldiers Military Loan Program
https://www.floridahousing.org/
Veterans Retraining Assistance Program
https://benefits.va.gov/vow/education.asp
VOW to Hire Heroes Act 2011
https://benefits.va.gov/vow
Veterans Florida Career Services
https://www.veteransflorida.org/careers/
Veterans' Benefits
Florida Veterans' Benefits Guide
https://floridavets.org/resources/va-benefits-guide/
Post-9/11 GI Bill and Veteran Education Benefits
https://benefits.va.gov/gibill
Federal Benefits for Veterans & Dependents Guide
https://www.va.gov/opa/publications/benefits_book.asp
VA Claims Information
https://www.va.gov
https://www.ebenefits.va.gov
Florida Military-Friendly Guide
https://floridavets.org/wp-content/uploads/2022/04/Florida-Military-Friendly-Guide-2021.pdf
VA Website for Airborne Hazards and Open Burn Pit Registry
https://www.publichealth.va.gov/exposures/burnpits/registry.asp
Social Security Benefits for Veterans
https://www.ssa.gov/people/veterans/
VA MISSION Act
https://floridavets.org/va-implements-mission-act/
Florida Hometown Heroes Housing Program
https://www.floridahousing.org/hometownheroes
Veterans' Resources
VA Video Connect
https://mobile.va.gov/app/va-video-connect
VA Online Discharge Upgrade Tool
https://www.vets.gov/discharge-upgrade-instructions
Attorney General's Consumer Protection Military and Veterans Assistance Program (MVAP)
www.myfloridalegal.com/MVAP
Florida Veterans Legal Helpline
(866) 486-6161
https://bals.org/veterans-legal-helpline
Financial Frontlines Program
https://www.myfloridacfo.com/YMM/FinancialFrontlines/
Small Business Program
https://www.myfloridacfo.com/YMM/smallBusiness/Default.aspx
Locate Military Records
https://www.archives.gov/veterans/
National Resource Directory
https://nrd.gov/
Veterans Health Matters Magazine, Publications and Products
https://www.visn8.va.gov/VISN8/news/publications.asp
Serve Save Succeed Program
https://www.myfloridacfo.com/servesavesucceed/
SHINE – Serving Health Insurance Needs of Elders
Florida Department of Elder Affairs
https://www.floridashine.org/
Military One Source
https://www.militaryonesource.mil/
The Veterans Consortium Pro Bono Program
Information
https://www.vetsprobono.org/
Visit Florida Travel Information for Veterans
https://www.visitflorida.com/military
Florida Department of Agriculture and Consumer Services – Veterans webpage
https://www.fdacs.gov/Consumer-Resources/Veterans
VA Debt Management Center
https://www.va.gov/manage-va-debt/
Veterans' Legal Resources
Military Pro Bono Project
https://www.militaryprobono.org/
Bay Area Legal Services
https://bals.org/
American Bar Association
https://www.americanbar.org/groups/legal_services/milvets/
Women Veterans
Homeless Women Veterans
https://www.va.gov/homeless/for_women_veterans.asp
VA Center for Women Veterans
https://www.va.gov/womenvet/
VA creates National Women Veterans Oncology System of Excellence in fight against breast cancer
https://www.va.gov/opa/pressrel/pressrelease.cfm?id=5549
VA Hotline on Health Care and Benefits for Women Veterans
1-855-VA-WOMEN (1-855-829-6636)
Women Veterans Health Care
https://www.womenshealth.va.gov/
Other Departments and Agencies
Consumer Financial Protection Bureau Office of Servicemembers Affairs
https://www.consumerfinance.gov/practitioner-resources/servicemembers/
Department of Agriculture and Consumer Services Employment Opportunities
www.FDACS.gov
Department of Agriculture and Consumer Services – Operation Outdoor Freedom
www.operationoutdoorfreedom.com
Florida Defense Alliance
https://www.enterpriseflorida.com/military-defense/florida-defense-alliance/
Florida Defense Support Task Force
https://www.enterpriseflorida.com/military-defense/florida-defense-support-task/
Florida Department of Military Affairs
https://dma.myflorida.com/
Florida Veterans Foundation
https://www.helpflvets.org/
U.S. Department of Veterans Affairs (VA)
www.va.gov
Veterans Florida
https://www.veteransflorida.org/
Index of all State/Territory Departments of Veterans Affairs Offices
https://www.va.gov/about_va/state-dva-offices.asp
Other
National Association of State Directors of Veterans Affairs
https://www.nasdva.us/
MyFlorida.com
https://www.myflorida.com/
Returning Service Members
https://www.oefoif.va.gov/
Returning Service Members Mental Health Support
https://www.mentalhealth.va.gov/returningservicevets.asp
Veterans & Mesothelioma
https://www.mesotheliomaguide.com/veterans
Hope for Healing Florida, mental health and substance abuse campaign
https://HopeforHealingFL.com
Florida Military License Plates
https://www.flhsmv.gov/motor-vehicles-tags-titles/personalized-specialty-license-plates/specialty-license-plates/